Services
DEVELOPMENT AND TECHNICAL SUPPORT OF DESIGN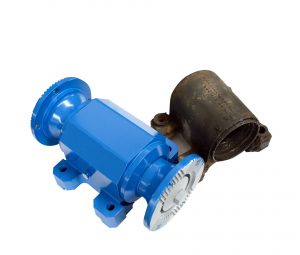 We offer our customers design and technical support for the introduction of new production and problem solving by means of simulating actual clamping and functional conditions of machines, equipment and worn components. We produce these components based on drawings, detailed material analysis, provided samples or old piece provided for modification. In the picture, we can see the pre- and post- processing state of a bearing housing with an increased load capacity for loaders.
We create documents in the CAD/CAM software Pro/Engineer WF 5.0 and Creo 3.0, which we then use either in our own production, or provide it upon request to the customer either as a hard copy, or as a PDF, DXF, DWG, 3D STEP or 3D IGES file. We create diverse simulations of component functionality and clamping to avoid collision states of the customer and thus preventing unsolvable issues, which saves both time and money.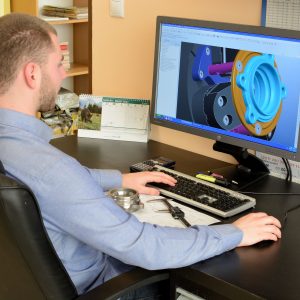 We focus on the needs of our customers, such as modelling, calculation and design of gears, gearboxes, shafts, gauges, cutting gear, repairs of equipment and clamping jigs. We design processing centre jigs and components, which can turn them into highly efficient single purpose machines, such as lathes or multi-spindle CNC mills.
We design custom clamping jigs as well. The customer specifies their requirements and we provide them with a stable clamping solution, either mechanic, pneumatic, or mostly hydraulic. To verify if a component is properly clamped, we use both direct and indirect air control, induction and optical sensors. For our clamping components, we offer special clamping units verified by years, as well as folding or telescopic and rotating clamps of renowned manufacturers such as ROEMHELD, HAINBUCH, ROHM,…
For all provided components, we issue an EC declaration of conformity along with a CE-certificate (Conformité Européenne).
We have designed and produced dozens of clamping jigs to a great satisfaction of our customers.
We keep our own archive of drawings with a technological preparation of production for individual components, which we can use for additional production.
PROGRAMMING
To create complex 4 and 5-axis programs, we use the continuous support of our CAD/CAM software WF 5.0 and Creo 3.0, thus being able to produce even very complicated and difficult to access workpieces in a simulated non-collision process. We can enter these processes as per need as each of our CNC machines is equipped with an own postprocessor.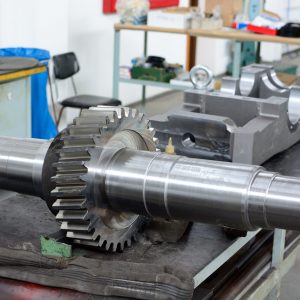 REPAIRS
As we are a production enterprise, we also provide the installation and repairs of machinery, such as refurbishing of gearboxes, clamping jigs, replacement of sleeves of machine loaders, unloaders, excavators, repairs of carriages of construction and road machinery, chassis, straightening of shafts, …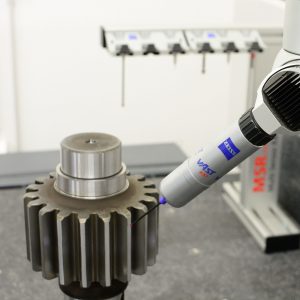 METERING
For our production, we provide metrology services in our metering centre on a three-coordinate equipment ZEISS CONTURA G2 equipped with a scanning head, Height Gauges, slide callipers of diverse lengths, calibres and etalons, micro meters, bore gauge, screw gauge, parallel gauges, hardness tester and micro-marker, …
We control and measure also for external companies, either only individual dimensions, such as diameter, surface, cogs, or even entire components. We provide a quality certificate for all measurement protocols, or upon request, we can also provide a DXF output from measured points. To measure more complex or shaped surfaces, we require a 3D model in the STEP (STP) format.
Carriage dimensions: X= 1 000mm, Y= 1 200mm, Z= 800mm, precision: 2.23µm and table capacity of 1 150kg.